ANNUAL DINNER –THE DANIHERS STILL IN FINE FORM.
Over 175 members and guests attended this year's Annual Dinner which was held at the Windy Hill Venue on Wednesday 25 September. Anthony Daniher was MC at this function for the first time and was in outstanding form in this debut performance.
The EFC Board was well represented by past players Simon Madden and Sean Wellman as well as Melissa Green, Andrew Muir, Katie Lio and new Board Member Kate O'Sullivan. The EFC Executive was represented by Jessica Brown (EFC Stake Holder Engagement Manager) and Gregor McCaskie (EFC Heritage Manager). A large number of representatives from other AFL Past Player Associations also attended along with representatives from Sovereign Financial (our Major Sponsor) and other EFCPP&OA sponsors including Condor Corporate Leisure.
President Barry Capuano in his welcome to all present noted that this year was the 70th anniversary of the Premiership won by Essendon FC in 1949.  He mentioned in particular that the only 2 living players in that team were present at this function, those being Harold Lambert (97) and Jack Jones (95). They were given a rousing reception by all present. It was noted that both Harold and Jack had played in 7 Grand Finals, winning three each, and in Harold's case, as he actually played 99 games for the EFC, he, on average, would have played in a Grand Final each 14 games.
Barry also noted that we were also celebrating the 20th Anniversary of the 1999 Reserve Grade Premiership and the 60th Anniversary of the 1959 Under 19 Premiership.
Barry introduced Hugh Delahunty who made a strong case for those at the Dinner to seriously consider donating to the funding of the proposed expansion of the Hangar. He noted in particular that donations were tax deductable and every dollar donated up to $10,000 would be matched by the EFCPP&OA.
One of the highlights of the evening was the presentation of Dustin Fletcher's Debut Jumper by his father Ken. Both have been outstanding servants of the EFC with a combined total of 664 games between them. Ken provided a number of interesting insights into Dustin particularly about Dustin's early years as a footballer. Dustin's Debut Jumper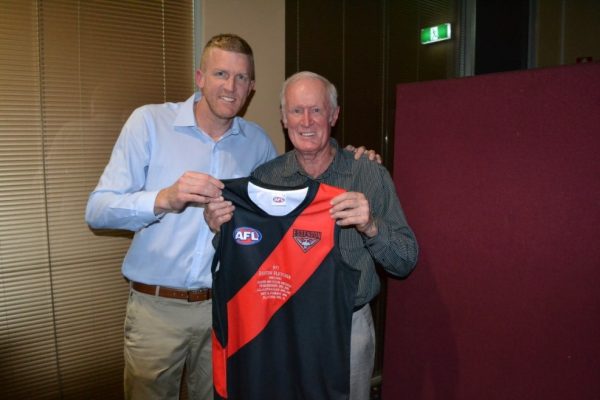 has particular significance as it is the only one with 400 games on it and may well be the only one ever.
The first unscheduled interview of the night was when Anthony Daniher called up his brother Chris for an impromptu discussion which focussed mainly on a recent visit by Anthony to the family property in Ungarie.  Chris had his arm in a sling and Anthony continually asked Chris what had happened to his arm. Chris ignored the questions preferring to talk about life on the farm but finally admitted to agreeing to fill in for the local AFL team as they were short of players.  Chris also admitted that his comeback lasted about 30 seconds as he dislocated his shoulder the first time he went for the ball.
Terry Daniher then took over control of the microphone and presented Debut Jumpers to Judd Lalich, Simon Eastaugh and Ilija Grgic.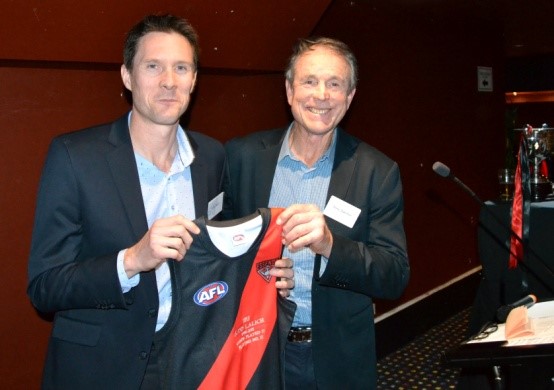 Judd Lalich receiving his Debut Jumper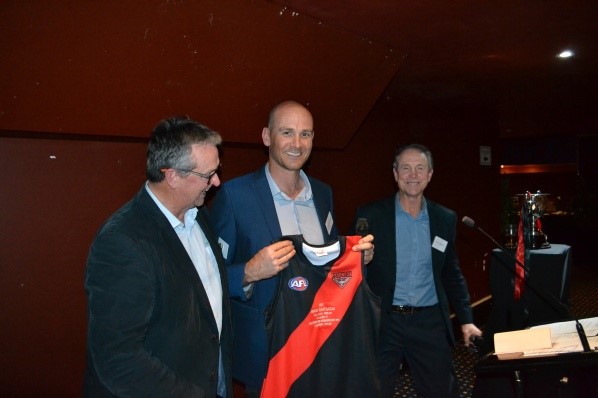 Simon Eastaugh receiving his Debut Jumper
In doing so, he interviewed each recipient mentioning details (both good and not so good) of their careers with Essendon FC much to the amusement of all present. Terry then moved on to what turned out to be a highlight of the evening when he called up and interviewed the players present who were members of the EFC 1999 AFL Reserves Premiership Team. As it was the 20th Anniversary of this win and also as it was the last ever AFL Reserves match (VFL started in 2000), and Terry was the coach of that team, he had much to talk about. Fifteen of the twenty members of the Team were present with apologies received from the 5 players who, 3 of whom were overseas with the 2 others unable to attend due to work commitments. Six of the players present had travelled from interstate to attend the function. Terry drew many laughs from his interviews with the players and it brought back many memories of a great win from 6th place at the start of the finals. It was great to see Stephen Milne present as the Grand Final was his last game for the Bombers before starting an outstanding career with St Kilda.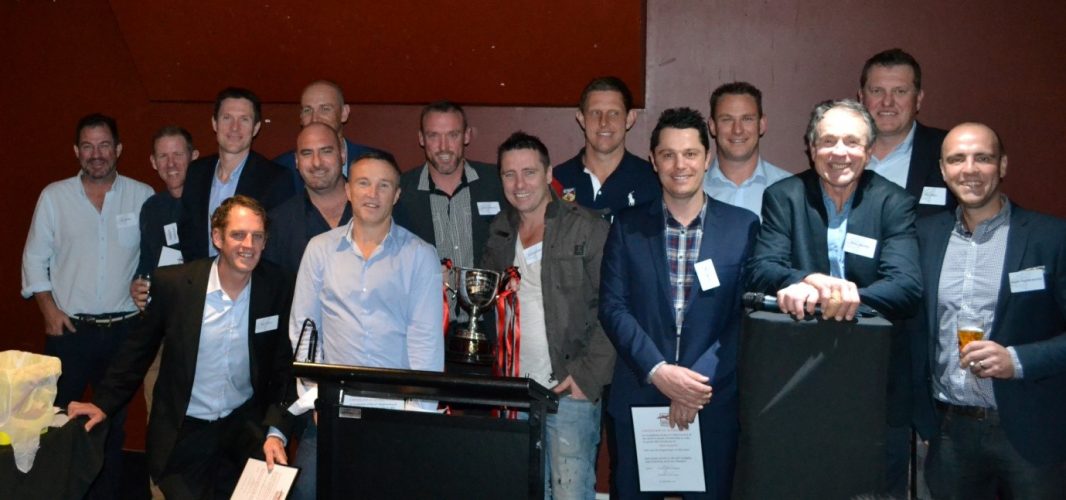 The second impromptu interview by Anthony Daniher was with Bruce Reid. Bruce provided an overview of his health situation which although still serious, has improved dramatically as a result of the medical treatment he has been undergoing.  Bruce also thanked the EFC for looking after him so well during his most difficult periods and entertained all present with his insights into his situation and his relationship with all those present tonight.
Former players who travelled from interstate for this year's Dinner included Ben Doolan, Matthew Banks and Michael Prior (WA,) Jordan Doering (ACT), Simon Eastaugh (SA), Judd Lalich (NSW) and Andrew Dimattina (QLD).
Paul Martell was our comedian this year and did a brilliant job. In doing so, he did say he was very nervous in the lead up to his routine as he was somewhat overawed by the brilliance of the performance by the Daniher Brothers during the night.
This event continues to grow year by year and is a real highlight.  It's readily apparent to all present  just how strong  the bonds are that have been built up over the years and clearly demonstrates  the strength of this part of the EFC.
Special thanks to the EFC for once again funding the drinks bill at the dinner.
The winners of the Special Effort drawn on the night were:
1st Prize        Myles Snow            2nd Prize       Ken Mansfield
3rd Prize       Alan Stokes            4th Prize       Michael Moore
5th Prize       Gary Young            6th Prize       Alison Tunks
7th Prize       Doug Philipson      8th Prize       John Richardson
9Th Prize       Helen Pirouet         10th Prize      Kim Gerlach
We are very appreciative of the great support we receive from the donors to our Special Effort and Silent Auction, as the funds raised from these areas assist us greatly in running our Association.
Written by David Collins
OBITUARIES
We are saddened to report the passing of Ian Browning since our last Newsletter. Ian was a long time Committee Member of the EFCPP&OA and was also a Life Member of the Association.
For those around the club during the 1980's, we also note that Brian Braybrook, a Coterie member in that time, passed away recently.
DRC/EFCPP&OA ASSOCIATE MEMBERS COCKTAIL FUNCTION
The function was held on 3rd September at the Legends Room, Windy Hill Function Centre.  Over 70 people attended what was both an intimate and enjoyable event.
Debut Jumpers were presented to Angus Monfries (by Darryl Gerlach), Jason Winderlich (by Darren Bewick), Kyle Hardingham (by Robert Shaw) and Nick O'Brien (by Kevin Sheedy).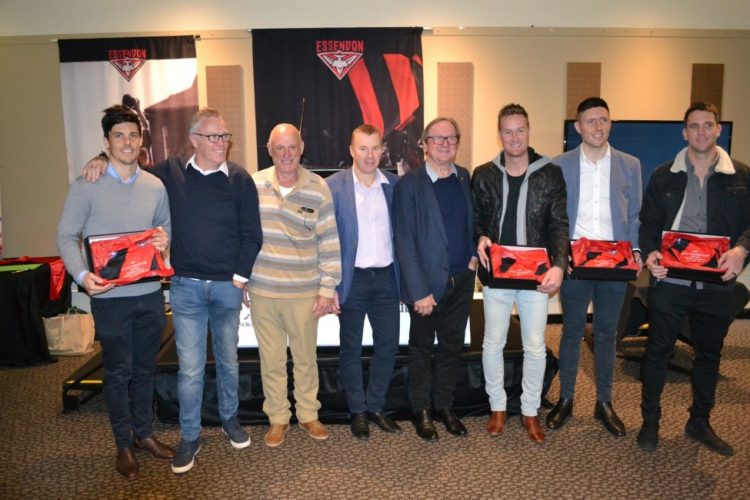 Angus Monfries, Robert Shaw, Darryl Gerlach, Darren Bewick, Kevin Sheedy, Jason Winderlich, Nick O'Brien, Kyle Hardingham.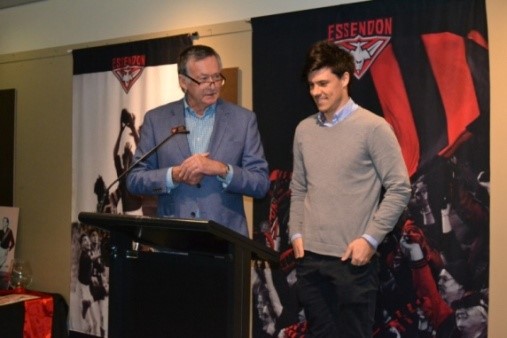 Kevin Dale interviews Angus Monfries
Kevin Dale did a superb job as MC as he introduced each recipient and presenter. A real feature of the night was Kevin's interview of each recipient following their presentation. Kevin focussed on what the players had been doing since they had left football.  All had extremely interesting insights into their respective professions and experiences. A very notable feature of each of the interviews was that the players were all assisted to a significant degree through the contacts they had made as a result of their careers with Essendon FC and the support they had received from both the contacts and the Club. Very good feedback was received about the function from those attending.
Written by David Collins
WHAT A GREAT STORY!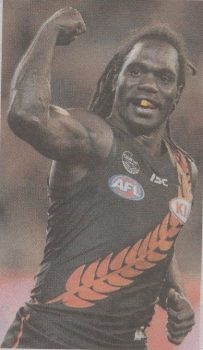 The story in the Herald Sun on Sunday 6th October regarding an interview between Hamish McLachlan and Anthony McDonald-Tipungwuti, is a must read for all football followers, as, in this case, it highlights the very difficult situation that Anthony had to bear during his earlier years and how he has triumphed due to his own determination and the fantastic guidance of his mum, Jane McDonald.
Anthony has become a great favourite of Essendon supporters and is highly regarded by all football followers, as his feats on the field are inspirational.
We anticipate that Anthony will be an important part of Essendon's on-field performances for many more years, and hopefully in winning Premierships.
A FAVOURITE INDUCTED INTO THE HALL OF FAME
At the Crichton Medal held on Tuesday 1st October, the club introduced a new segment, inductions into the Hall of Fame, and Ian 'Bluey" Shelton was inducted as a Member.
Kevin Sheedy spoke about Ian's years with the club and presented him with a Hall of Fame Certificate. Ian responded and acknowledged that he was extremely honoured to have been inducted into the Hall of Fame. Ian started playing with the club in 1959, coming from Avenal, and was a member of the 1962 and 1965 Premiership Teams, playing in 91 games with the club. He missed the 1964 season due to a serious eye injury incurred on his farm, but came back in 1965 to become an important part of the teams Premiership win. He represented Victoria in 1962 and was Vice-Captain in 1965 and is a club Life Member.
In some respects, Bluey was lucky to be with us, as an abstract from the Ned Kelly Vault at Beechworth states;
"1866 (approx.) Ned saves seven year old Richard Shelton from drowning and receives a green sash from Richard's grateful parents Esau and Margaret Shelton."

Richard Shelton was Bluey's Grandfather.
FACTS FIGURES & OTHER TRIVIA
It is 35 years since the Bombers won the 1984 Grand Final with a great last quarter, coming from behind at ¾ time 5.15.45 to 10.8.68, to finish 14.21.105 to Hawthorns 12.9.81. Attached are the Essendon stats for this game, which just goes to show that the modern game's high statistics has not improved the quality of the game, as this was a fantastic game to watch.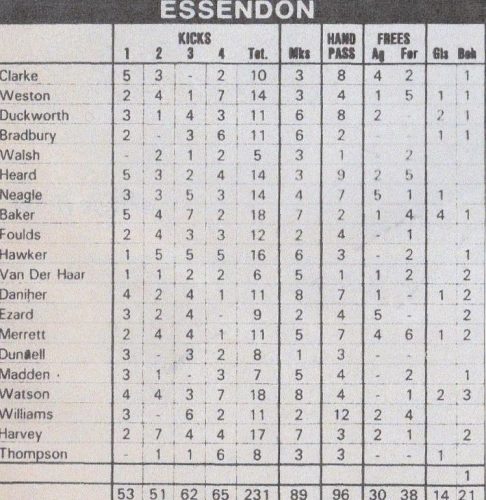 During 1931, due to the un-financial situation that the club found itself in, players wages were reduced to 2 pounds ($4) per week and the coach to 4 pound ($8) per week. 1931 was the first year that the final four system was introduced, and remained until the final five was introduced in 1972.
In 1994 a third interchange player was introduced by the AFL and the finals system was expanded to 8 teams, even though there were only 15 teams in the competition at that stage. Fremantle was to be introduced in 1995.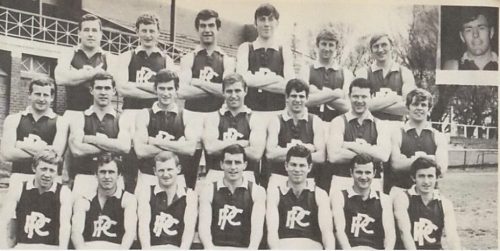 This photo of the Preston FC VFA Premiership team of 1968 includes some top VFL  players from the 1960's,including Rob Heard (Collingwood and Richmond) 4th from left in back row, Graeme Johnston (Essendon) on left of middle row, and Alan Joyce (Hawthorn) in the middle of front row. The fellow on the left in the front row also played for Hawthorn and later became the EFC club doctor, none other than Bruce Reid!


MILESTONES & ACHIEVEMENTS
The following members have or will have achieved significant birthday milestones between 1st September and 31st December 2019.
60 years of age
David Burke
Steve Carey
Gary Sheldon
70 years of age +
Stuart Barclay (70)
Robin Close (70)
Gary Grainger (70)
Les Stillman (70)
John Ellis (71)
John Fanning (71)
Iain Findlay (71)
Roger Hampson (71)
Ray Smith (71)
Ron Thomas (71)
Peter Daniel (72)
Kevin Sheedy (72)
Gary Crouch (73)
Graeme Jenkin (74)
Geoff Pryor (74)
Robert Wilson (74)
Charlie Payne (75)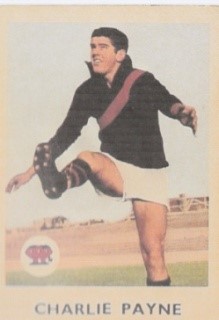 Ian Stevenson (75)
Barry Davis (76)
Kevin Egan (76)
Noel Raitt (76)
Glenda Wade (76)
Ian Anderson (77)
Garry Fenton (77)
Robert Horgan (77)
Russell Blew (78)
Alf King (78)
George Spiro (78)
Barry Capuano (79)
Barry Matthews (79)
80 years of age +
Max Byers (80)
Paul Doran (80)
Don Nicolson (80)
Ron Clarke (81)
Noel Freeman (81)
David Shaw (81)
Geoff Barber (82)
Les Pridham (82)
Brian Donohoe (83)
Colin Hebbard (83)
Robert Dunlop (84)
John Kilby (84)
Hugh Mitchell (85)


John Towner (86)
Robert Fox (88)
90 years of age +
Brian Gilmore (90)
Merna Slattery (91)
Noel Allanson (94)
Jack Jones (95)
Gordon Yea (95)
Associate Members
60 years of age
Jeannette Caldwell
70 years of age +
Kevin Chambers (72)
Graeme Brown (75)
Peter Burrows (76)
Denis Moroney (77)
John Robinson (78)
Buzz Buzaglo (79)
80 years of age +
Wally Johns (82)
Patrick Mattey (82)
The Association has 9 members in their 90's.
We wish you all many years of health and happiness.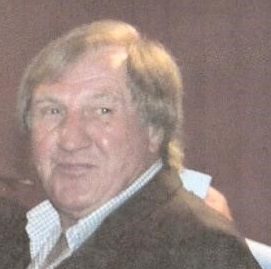 Noel Freeman, who was a Board Member of the EFC for many years and about to turn 81, was an outstanding Walker for Australia, finishing 2nd in the 20km walk at the Rome Olympic Games in 1960, 4th in the 20km walk at the Tokyo Olympic Games in 1964, and 1st in the 20 miles walk at the Edinburgh Commonwealth Games in 1970.
WHO IS THIS PAST PLAYER?
FRANK MAHER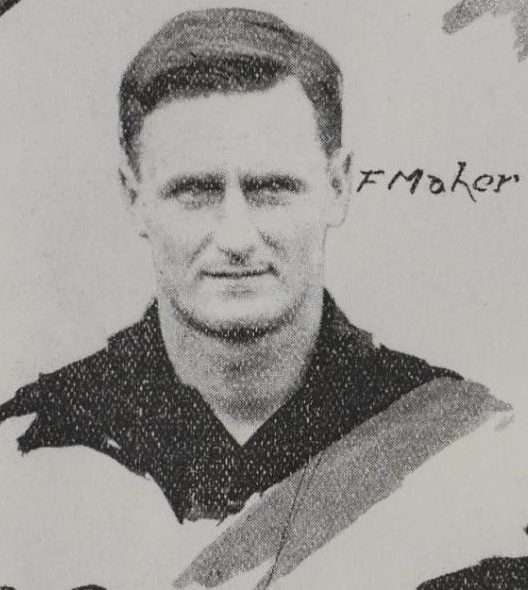 Years Played:                1921-1928
Games Played:              137
Goals Kicked:                124
Number worn:               24
Frank was renowned as a skilled rover and a dashing footballer with great ball handling skills.
He was a member of the 1923 and 1924 Premiership Teams.
He was Captain-Coach of the team from 1925 to 1927 and was also Best and Fairest in 1927.
He Captained the team in 1928 when Charlie Hardy took over as Coach.
He represented Victoria nine times and was Captain/Coach of the 1927 Carnival team.
After Essendon, Frank Coached Fitzroy from 1932-1933 and Carlton from 1935 to 1936.
WHERE ARE THEY NOW?
 IAN GRAHAM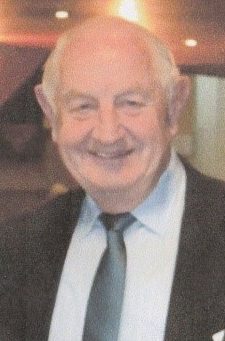 Years played:                 1962-1963
Games Played:              5
Number worn:               39
What did you do, football wise, following your playing days with Essendon?
Played with Coburg FC under Perc Bushby 1964-68 and won Best & Fairest in 1965. Played Eltham FC under Hugh Mitchell 1969 and team won the Premiership.
What job/jobs did you pursue following your playing days, including what you are doing currently?
Working days estimating sales and marketing in the printing industry. Today a member of Essendon Bowling Club, Essendon Probus and Northern Golf Club
Are you still working?  No
Have you suffered with any post football injuries and have any required surgery? No
 Do you have any ongoing medical problems? No
What are your thoughts on the modern game, and how would you change any of the areas that you don't like!
Present day footballers are superb athletes, however today's game more like "keeping off", i.e. keeping control of the ball at all times rather than kicking to a contest further down the ground.
Do you have any special anecdotes from your playing time to pass onto other past players?
My first senior game I managed to kick a goal while resting in the forward pocket on "Delicate" Des Dickon (Hawthorn). His comment, "Nice goal sonny but you won't be doing that again" Um!!
Who were your mates in your playing days with Essendon, do you keep in touch?
Barry Davis, John Birt, John Welsh. We still socialize and play golf.
Who were the players you most admired in your playing days at Essendon?
For Essendon: Jack Clarke, Ken Fraser, John Birt, Barry Davis
Other teams: John Schultz, Bob Skilton
Do you have any comments that you would like to pass on about your time at Essendon?
A friendly welcoming club with which I was, and still am, proud to be associated with. I continue to have many close friendships till this day.
ASSOCIATION MEMBERSHIP
As mentioned in earlier Newsletters, we are trying to track down as many as possible of Reserve and U19 players who are not eligible for full membership, but now able to join as an Associate member. From records we have been able to compile with the help of Carolynn Larson at the EFC, there is a minimum of 150 Reserve Grade players and 640 U19 players who are eligible to apply for Associate membership and if any of our readers are aware of any players in these categories we would greatly appreciate if you could supply us with contact details. The following are some of the Reserve Grade player's we are trying to track down:
1959
C. Chivers
? Collins
R. Cooper
R. Davern
J. Lovick
G. Nettleton
G. Papageorgiu
1960
R. Cripps
B. Dixon
R. Joyce
Ray Schmidt
1965
G. Dowlan
C. Foskett
H. Greig
R. Jackson
D. Kane
1970
G. Gration
R. Mitchell
1977
Owen Johnson
Craig Topp
H. Greig
Geoff Williams
1981
Graham Pearson
Peter Wright
Any contacts should be forwarded to Kelvin Steel on [email protected] or mobile 0419582992.
We have lost track of the following members and if anyone can assist in supplying contact details it would be greatly appreciated: Morton Diston, Rob Fox, Brian Gilmore, George Goninon and Graham Willey.
BAREFOOT BOWLS TOURNAMENT
Our annual Barefoot Bowls Tournament against the staff of the EFC was held at the Essendon Bowls club on Friday 15th November and was another excellent day, and although the attendance on the day was disappointing, all attending enjoyed the event, which included some exceptional bowling!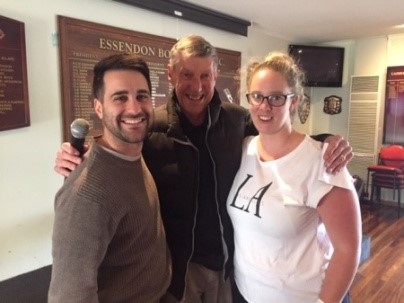 The winning team was skippered by Kevin Parks with Kate Heath and Richard Calle, second place was skippered by David Ryan with Sarah Filippi, Adrian Crawford and Grayson Huddart, and third place was skippered by Darryl Gerlach with Andrew Curatore and Gregor McCaskie.                .
Our thanks are expressed to Terry Ryan and the Essendon Bowls Club, the EFC for supplying food and drinks and Graham Leydin for organising the event.
AFLCPP&OA BOWLS DAY
The Altona Bowling Club was once again the venue for this popular event.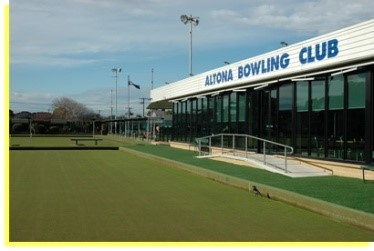 Sunday November 17 brought cloudy conditions with a gusting wind making condition tricky at times. The Altona venue with its excellent greens and facilities created great  atmosphere in association with generous hospitality during the day.
The majority of clubs were represented and several clubs had two or more teams …..Bulldogs 3 , Essendon 2 , North 2 , Collingwood 2 and Geelong 2.Unfortunately Carlton , Hawthorn, Richmond and the Saints were not represented and every effort is being made to include these clubs in the future. An "Allies " team made up of a mix of players also took part.
Essendon again entered two teams and Alby Wilson did a great job in "rounding up the troops" to ensure the club was well represented.  John Syme was a new addition to the group and this year and Warwick Reynolds joined us once again. Thanks to all those who took part.
Team lists included….
Essendon 1 –  Alby Wilson , Kevin Harwood , Warwick Reynolds , Geoff Barber
Essendon2 –  Brian Lanigan , John Syme , Ian Graham , Graham Leydin
As usual both teams were looking forward to the keen competition ahead and confident of performing creditably as they were well represented by experienced bowlers. After the random draw….. four games of eight ends started enthusiastically as each team strived for early success to set the standard for the games to follow.
The Essendon boys produced a mixture of results  ….. Essendon1 winning all four games and narrowly missing out as the overall winner by one point. Excellent performance. Essendon 2 started well, lost the second game by one shot, but fell away badly in the later games despite the best efforts of skip Brian Lanigan.
Results …
Essendon 1
Game 1  Ess.    17  Geelong (2)  6          Game 2  Ess 13   Foots(3)  2
Game 3  Ess     14  Allies   6                 Game 4  Ess  11   Foots 3   6
Essendon 2
Game 1   Ess   18  Coll (2)     1              Game 2  Ess   7    North( 1)  8
Game 3   Ess     3   North(2)  12            Game 4  Ess   9    Geelong(1)  18
Congratulations to North (1) on winning the Ken McKaige Shield.
Essendon will strive to get it back at next year's challenge on March 15th.