CONGRATULATIONS TO A SPECIAL CHAMPION.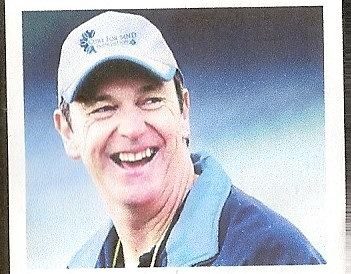 Neale Daniher, a former great player for the EFC and more recently the force behind the MND campaign to raise funds for research into a cure for this horrible disease, which unfortunately Neale suffers from, has been named as the Victorian of the Year.
The work that Neale has done in raising very substantial funds for MND research, including the Big Freeze at the MCG on the Queen's Birthday holiday and the Daniher Drive, has been inspirational to many Australians and this award is not only well received, but long overdue. He should become the Australian of the Year!
It has been suggested that the AFL should consider creating a special annual award in the name of Neale Daniher, to embody the work Neale has done for MND. We believe that all AFL followers, in fact all Australians, would support such an award.
An early measure of Neal's leadership capabilities was shown by the EFC in 1982 when he was appointed as Captain of the team, however due to his knee injuries he did not take the field during that season, which eventually restricted him to playing 82 games with the club.
We all hope that a cure can be found for MND in the near future and that Neale can benefit from any such cure.
FACTS FIGURES & OTHER TRIVIA
In 1874, it was reported in "The Footballer" that another revision of the rules took place in May before the season started, "the only change of moment being a provision for the total abolition of scrimmages which had now become a nuisance". How times have changed!
A recent newspaper report from the Geelong FC, suggested that all Premierships won by teams in the VFA before the VFL was formed in 1897 and subsequently for teams that did not join the VFL until a later time, should be counted in total Premierships won. If that were to be the case, Essendon would have 20 Premierships, having won 4 on end in the VFA from 1891 to 1894. However, it should be noted that another Essendon team was formed in the VFA in 1901 and played in the competition at the Essendon Football Ground until the Essendon VFL team moved from East Melbourne to the Essendon Football Ground in 1922. The VFA club was then disbanded. How would their two Premierships in 1911 and 1912 be treated if all Premierships were combined? This coincided with the Essendon VFL team winning Premierships also in 1911 and 1912. The whole concept doesn't make sense as they were clearly different competitions, and the history of each should be retained separately.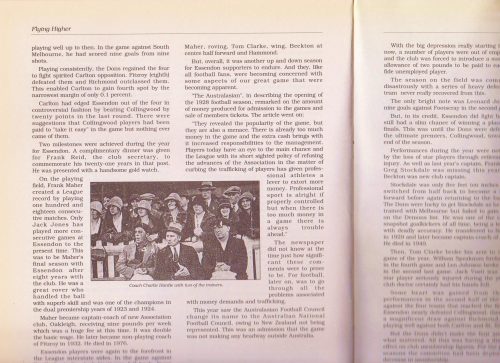 In 1928, Charlie Hardy, a great player of the "Mosquito Fleet" which won back to back flags in 1924 and 1925, was appointed as Coach, at 5 pounds per week. The conditions for coaches in those days were a little different than today as the photograph shows, although the women seemed keen to be close to the coach.
This year celebrates the 70th Anniversary of the 1949 Premiership and it is great to acknowledge that both Jack Jones at 94 years of age and Harold Lambert at 97 years of age are still active members of our Association.
Jack Jones is on the right hand end of the back row, and Harold Lambert is second from the right in the middle row.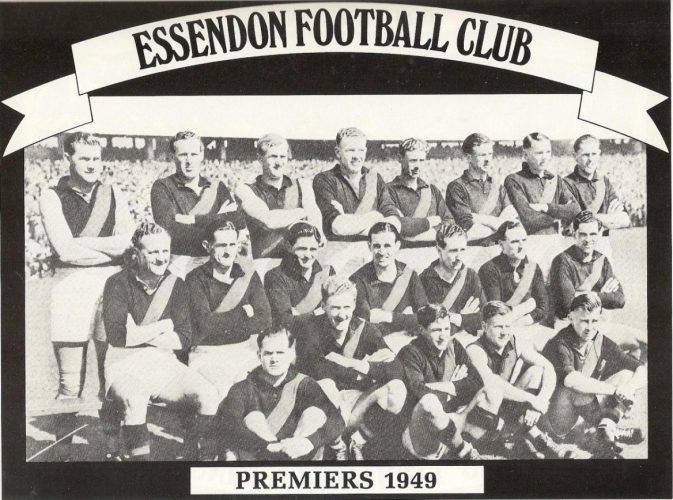 It is also noted that this year is the 20th Anniversary of the Reserves Premiership in 1999. From that team, the following players represented the club at Senior level: Jason Johnson, Ben Doolan, Adam Ramanauskas, Mark Bolton, Mark McVeigh, Matthew Banks, Judd Lalich, Ben Haynes, Aaron Henneman, Ilia Grgic, Sean Denham, Daniel McCallister, Simon Eastaugh and Danny Jacobs.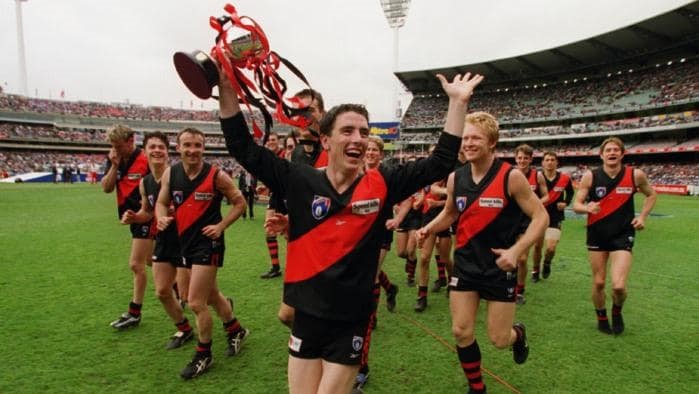 Some interesting financial information from the 1946 Premiership Year:
Club Membership was 4,832 seniors and 708 juniors, at £0 10 6 ($1.05) and £0 50 ($0.50) each respectively.
Total gate receipts were £1,930 3 5 ($3,860.35)
Total receipts for year were £6,510 11 1 ($13,021.10).
Total player payments were £2,472 15 0 ($4,945.50).
Footballs cost £97 17 6 ($195.75).
Balance Sheet Assets totalled £2,450 17 5 ($4,901.75).
RECOGNITION OF A GREAT BOMBER.
A function organised by John Birt was held at Windy Hill on the 30th April to celebrate the 80th birthday of Don McKenzie. Don represented the club from 1960 till 1974, playing 266 games and was a member of the 1962 and 1965 Premiership Teams. Don was Best & Fairest in 1966 and was Captain of the team in 1969. In 1963 Don was charged with having struck Boundary Umpire Marsh, the charge reading, "During a scrimmage he struck me with the forearm and hit me on the chin". The charge was dismissed. The Coach, John Coleman, who was not a great favourite of umpires, commented when seeing a television replay, "It seems to me that McKenzie could take action against the umpire for assaulting him, rather than the other way around".
As Don played with many past players in his time with the club, John Birt was only able to invite members of the Premiership Teams in which Don played, and some close friends to the function, including members of his family.
There were many stories told on the day and Don was extremely grateful that 15 of his Premiership teammates were able to attend. He was presented with a jumper signed by all of those attending.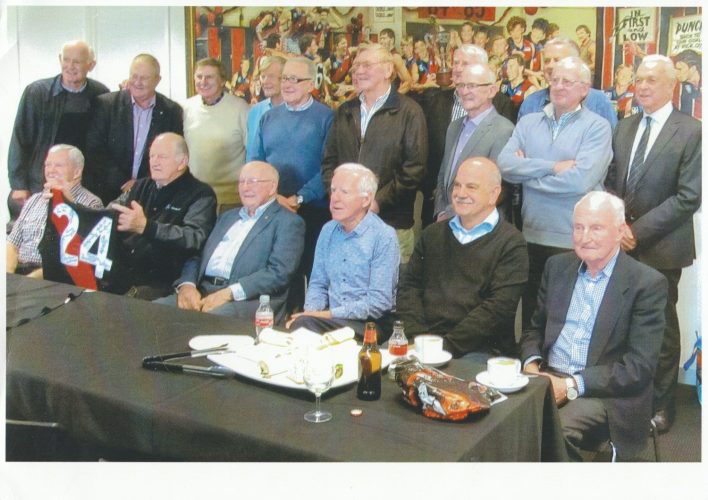 Standing: Ken Fraser, Greg Brown, Hugh Mitchell, Barry Davis, Alex Epis, Darryl Gerlach (partly hidden), Ian Shelton, Paul Doran, Russell Blew, Charlie Payne, Graeme Johnston & David Shaw.
Seated: Barry Capuano, Don McKenzie, Greg Sewell, John Birt, Kevin Egan & Reg Burgess.
Don has recently had a nasty bout of pneumonia but is now on the mend.
OBITUARIES
We have unfortunately lost former player, Trevor Elliott since our last Newsletter. Trevor played 7 games for the club between 1957 and 1958 and then played 23 games with Footscray between 1960 and 1961. Trevor was the Brother in Law of Ian Shelton.
Many of our members would remember Jim Duffy, who ran a hair dressing salon in Napier Street, Essendon and was a strong supporter of the club. Jim passed away in April.
Helen Gay, the wife of former Board Member Neville Gay passed away in early July.
Our condolences are expressed to all family members.
WHERE ARE THEY NOW?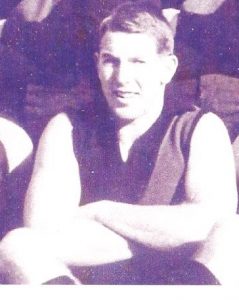 Name:         Colin Hebbard                                 
Years played:       1957-1961
Games played:     85
 What did you do, football wise, following your playing days with Essendon?
Played 5 years with West Perth for 95 games, was a WA State Player in 1962 and 1966 playing 6 games. I was Chairman of Selectors WPFC with John Payne as Coach for two years. Completed an MBA with Curtin University after my original Degree in Accounting. Worked in bank for 11 years.
What job/jobs did you pursue following your playing days, including what you are doing currently?
General Manager WA EMI Ltd. General Manager Vic EMI Ltd. Then a stockbroker with Potter Partners, Bell Group until I retired.
Are you still working?  No
Have you suffered with any post football injuries and have any required surgery?
Both hips and knees fully replaced.
Do you have any ongoing medical problems?
Arthritis in fingers as normal for AFL footballers.
What are your thoughts on the modern game, and how would you change any of the areas that you don't like!
Centre bounce rules have changed for the better with less congestion.
Do you have any special anecdotes from your playing time to pass onto other past players?
Good times at recovery on some Sundays at the sea baths at St Kilda. End of season trips was something to look forward to.
Who were your mates in your playing days with Essendon, do you keep in touch?
Alex Epis, John Birt, Bluey Shelton, Paul Doran, Hugh Mitchell and we meet at Past Player Dinners.
Who were the players you most admired in your playing days at Essendon?
For Essendon: Jack Clarke, Bill Hutchison, Geoff Leek, Ken Fraser, Greg Sewell and John Birt.
Other teams: Bob Skilton, Alan Aylett, John James
Do you have any comments that you would like to pass on about your time at Essendon?
Great times as a player with great memories-End of season trips were most enjoyable.
I was a WA Talent Scout Manager for 26 years with Kevin Sheedy-started with Barry Davis. Other players to come to West Perth from Essendon were Ron Evans, Brian Sampson.
SEEKING FORMER EFC U19 PLAYERS
As part of our expansion of Associate Membership of the Association, we are trying to track down U19 players who played up to the disbanding of the competition at the end of 1991.
The club and the AFL hold limited information regarding U19 players, and through the good work of Carolynn Larson, a volunteer for the club, together we have been able to establish listings of each year from 1957 to 1991, however in some years we have limited names available. Listed below are the limited names we have available from some of the years, and we ask our members and readers if they know of any of these players, could they please forward the information to Barry Capuano on: [email protected] or on mobile 0407592979.
1962
Ken Adams
J. Cousins
R. De Morton
R. Debney
R. Fisher
K.Goss
Ray Howe
R. James
Morris
G. Nash
Peter O'Connor
Denis O'Sullivan
1965
? Brook
Chris Burley
P. Busbridge
P. Hocking
Bruce Jardine
S. Kendall
? Prentice
? Rainey
G. Robinson
David Smith
R. Sporton
R. Webber
1966
D. Constable
I. King
A. McGaughlin
Ken Wardley
? Williamson

1967
? Cramb
? Jeffrie
Peter MacWilliam
R. Mitchell
Phil Pryor
Fred Robinson, the Manager of the U19's for many years, kept extensive records,however most have disappeared . If any of our readers have any contact with the Robinson family we would appreciate if you could contact us.We will continue to seek further information on other years of U19 players in future Newsletters, however we would be very pleased if any information can be passed on for any U19 players not listed above.
WHO IS THIS PAST PLAYER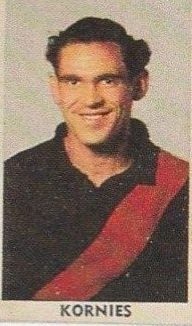 Norm McDonald
Played:                 1947-1953                                      
Games played:     128
Number worn:      4
Was a member of the 1949 & 1950 Premiership Teams.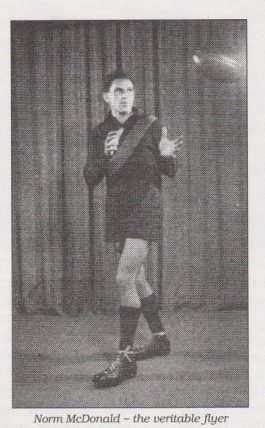 Norm McDonald was one of the first indigenous players to play for the EFC.He was an outstanding half back flanker and was an excellent mark and kick with great pace. He would certainly hold his own in today's game as he was a very attacking player off the half back flank.
He ran second to another Essendon player, Lance Mann, in the 1952 Stawell Gift where he started as favourite, however Norm was a very sociable person and celebrated a little too early the night before the event.
Norm won the Best & Fairest Award in 1951 and played brilliantly in the 1949 and 1950 Premiership wins. He represented Victoria in 1952.
NEW RECORD CLUB MEMBERSHIP
The club had set a record club membership at the end of July of 84,237, which is a fantastic result.
MILESTONES & ACHIEVEMENTS
The following members have achieved or will achieve significant age milestones between the 1st May and the 31st August 2019.
50 years of age
John Della
Michael Werner
60 years of age
Merv Harbinson
Michael Redenbach
70 years of age +
Hugh Delahunty (70)
Bruce Dodson (70)
Ken Gilbertson (70)
Brian Pirouet (70)
John Carpenter (71)
Bruce Lake (71)
John Sinclair (71)
Max Warlow (71)
Ross Sporton (72)
Robert Thompson (72)
John Williams (72)


David Collins (73)
Vic Papp (73)
Bruce Waite (73)
Ken Betts (74)
Graeme Dowlan (74)
Graeme Jenkin (74)
Graeme Langsworth (74)
Bruce Walmsley (74)
Jim Forsyth (75)
Ron Haeberle (75)
Neil McKissock (75)
Kevin Andrews (77)
John Booth (77)
Graeme Johnston (77)
Graeme Beissel (78)
Ted Fordham (79)
Geoff Gosper (79)
Doug Philipson (79)
Ray Sneddon (79)
Barry Tout (79)

80 years of age +
Ken Timms (81)
Kevin Dellar (82)
Alec Epis (82)
Jim Matthews (82)
Gerry Backhouse (83)
Ray Lalor (83)
Fred Lynch (83)
Ian Whitford (83)
Jack Hambridge (84)
Kevin Parks (84)
Reg Burgess (85)


Frank Driscoll (85)
Ron Okey (85)
Peter Bevilacqua (86)
Peter Harrington (86)
Greg Sewell (86)
Graham Willey (86)
Ray Martini (88)
Rob Taylor (88)
90 years of age +
Harold Lambert (97)
Associate Members-Reserve & U19 Players
70 years of age +
Warrick Reynolds (73)
John Richardson (73)
Peter Saville (74)
Jack Clarke (76)
80 years of age +
Don Cameron (81)
Graeme Cocks (81)
Kevin Freeman (85)
Geoff Rackham (86)
DRC Members
50 years of age
Sharon Young
70 years of age +
Ian Meggs (70)
Peter McIvor (74)
June Reynolds (78)
80 years of age +
Raymond Stevens (82)
We wish all of our birthday members many years of good health and happiness.
DRC FUNCTION-THE UNTOLD STORIES OF OUR LEGENDS.
The Dick Reynolds Club in conjunction with the EFCPP&OA, held a function at Windy Hill on Wednesday 3rd July, featuring club greats, Terry Daniher, Joe Misiti, John Birt, Simon Madden and Kevin Sheedy, telling their stories.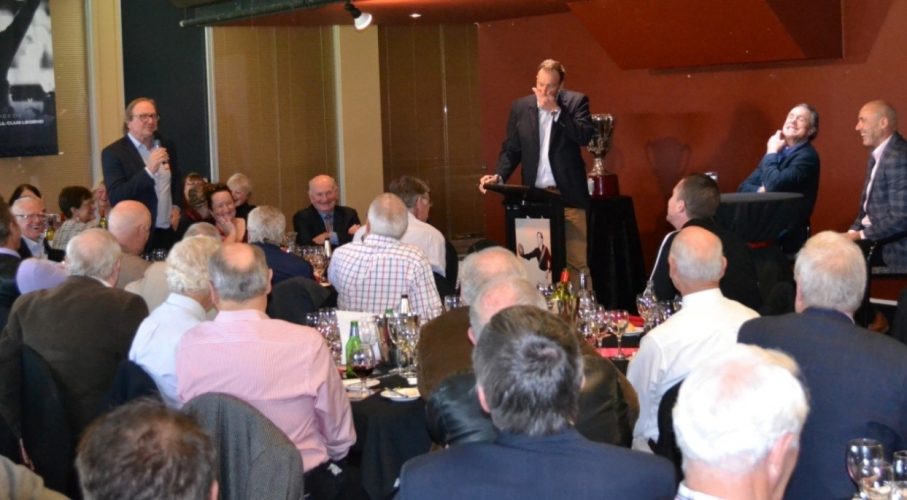 This was the first DRC function organised by our Association and was a great success, with some 150 guests attending.
Steve Alessio acted as MC for the day and interviewed all of the legends in three separate panels, and there were some very funny and entertaining stories told by all of the great players and coach. Mark Eustice was a guest panellist on the day.
 All profits made from DRC functions are now included in our Association's funds and will form an important part of our future fund raising efforts. We would encourage our members to attend these functions in the future as you will be able to attend at DRC Member prices.
COMMENTS FROM THE PRESIDENT
 The main aim of our Association is to ensure that all past players are well looked after following their football careers. In this respect, the EFC Past Players Foundation Trust was set up jointly between the club and our Association in 2004 to assist past players who were having financial hardship following their playing days. Since that time, some 30 past players and their families have been assisted through the fund to around $150,000.
 The fund has been topped up each year from profits made from Dick Reynolds Club functions, and four years ago our Association decided that we would inject a further $50,000 into the fund over a five year period. Together with profits derived from the annual DRC Golf day, we would envisage that the base fund will be at least $150,000 by the end of 2020.
 The Trustees of the fund believe that there may be past players out there who are not fully aware of the fund or are too proud to seek assistance, however, we would point out that the fund is there to assist past players suffering financial hardship, and all enquiries are kept in the strictest of confidence by the Trustees, so feel free to contact either Ray Horsburgh, Greg Brown or Barry Capuano if you require assistance.
ANOTHER UNSUNG CHAMPION OF THE CLUB
ALAN STEVENS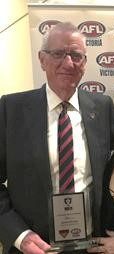 Alan started as Deputy Timekeeper in the Reserves in 1966, assisting Dick Leeds. He started as full-time deputy in 1968.
Graduated backwards!!, to Under 19 Timekeeper at the request of Kevin Egan to help out there in the mid 80's with the illness of Harold Buckingham, making it impossible for him to continue in that role. He returned to the Reserves in the late 80's.
He was made a Life Member of the club in 1993 after 27 years involvement.
 Alan was promoted to AFL Timekeeper in the early 90's as a result of further illnesses to Jim Eilenberg and Ron Stevens (Alan's father, who had been a Timekeeper for the club for many years, starting in 1940) and remained there till 1999 when the AFL lost sight of volunteers and paid for Timekeepers. He believes he was not appointed as an AFL Timekeeper, as he had told Jill Lindsay of the AFL to stop interfering in timekeeping whilst in Darwin against Footscray in a pre-season game in early 1999. He was appointed President of AFL Timekeepers in 1997-1998, but missed out on AFL selection in 2000.
 Alan was asked by Terry Daniher and Mark Harvey to assist TD as Match Comments Writer in the Reserves and remained in that role until the joint venture/alliance with Bendigo,  and was then appointed as the Match Day Manager for the full period of the merger. On the demise of the joint venture Alan returned to the Essendon Reserves in his current role. Alan did comment that he was not truly a volunteer as he was paid $1,000 per season as Honorarium Travel expenses, which would not go close to his actual costs!
Alan was awarded the Alec Gillon Award at the VFL's JJ Liston Awards in 2016, in recognition of honorary club officials who have provided outstanding service to their club or football in general.
 Alan has done a fantastic job during his career of 53 years at Essendon and is truly an unsung champion of the club.  
EFCPP&OA LIFE MEMBERS DINNER
 The Life Members Dinner was held at Windy Hill on the 21st June and the majority of Life Members were in attendance, together with members of our Committee, to see the induction of two further Life Memberships to John Kilby and Alan Dunn.
 Prior to the presentation of medallions to the new Life Members, the President presented all of the Life Members in attendance with framed certificates which indicated the year that they were made Life Members, and this practice will continue in the future to enable Life Members to display to their family and friends, that they are Life Members of the Association.
 Jessica Brown from the EFC was a special guest on the night and she spoke to the group regarding her role with the club and how she worked with the EFCPP&OA.
 John Kilby and Alan Dunn have given great service to the EFC and our Association over many years and were worthy recipients of Life Membership.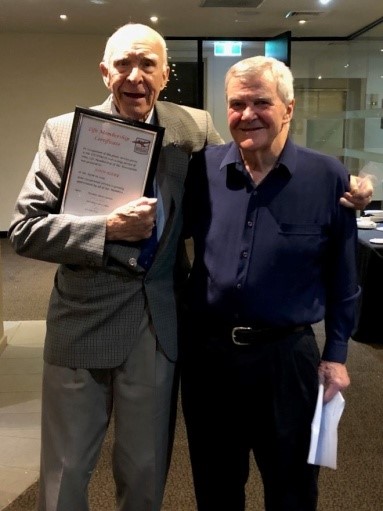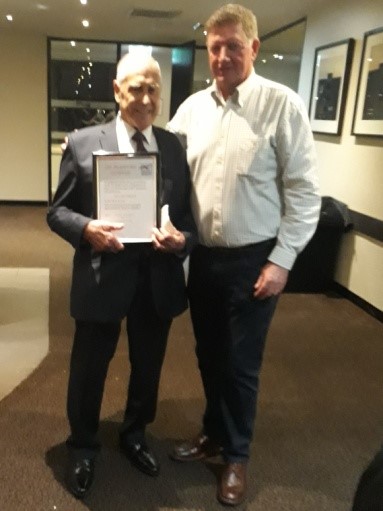 Barry Capuano made the presentation to John Kilby, and David Collins made the presentation to Alan Dunn,each outlining the fantastic service they had given to the club and the Association. Both John and Alan responded that they were honoured and thrilled to be awarded Life Membership.