ANNUAL DINNER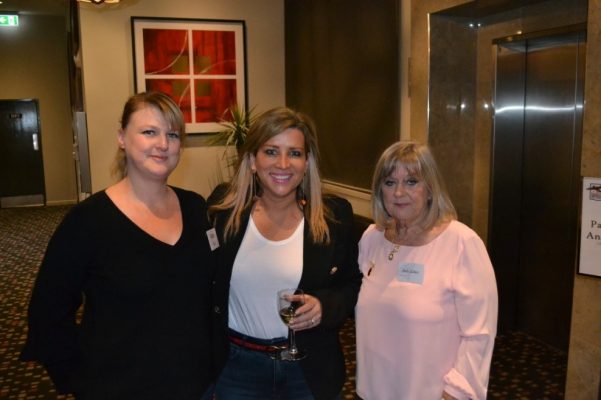 KATIE LIO, MELISSA GREEN AND BARB CULLEN ENJOY THE EVENING.
Over 175 members and guests attended this year's Annual Dinner which was held at the Windy Hill Venue on Wednesday 26 September. Steve Alessio was MC this year and did a great job in introducing the guests, and  keeping things on track.
EFC Chairman Lindsay Tanner was once again in attendance at this year's dinner along with Board Members Katie Lio, Melissa Green, Andrew Muir, Sean Wellman and Simon Madden.  CEO Xavier Campbell along with Jessica Newman (EFC Head of Strategic Partnerships and Major Projects) and Jessica Brown (EFC Stake Holder Engagement Manager) all of whom have been fantastic in their support of and assistance to the Past Players Association were also in attendance. A large number of representatives from other AFL Past Player Associations, and club Coterie groups also attended.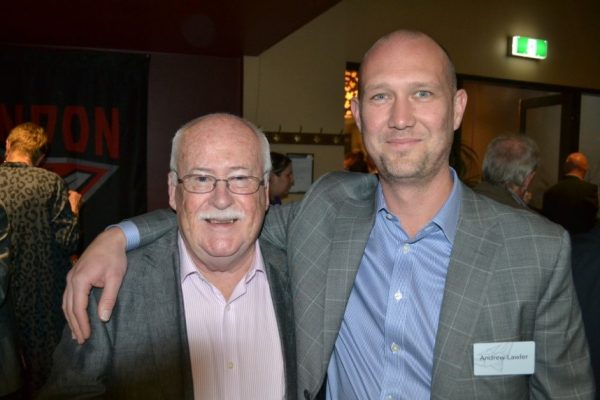 DAMIEN SMITH AND ANDREW LAWLER REPRESENTING SOVERIEGN FINANCIAL SERVICES
President Barry Capuano in his welcome to all present, mentioned that 2 of our oldest 3 members were present tonight, those being Harold Lambert (96) and Noel Allanson (93).Unfortunately Jack Jones (94) was an apology this year due to a broken hip. Barry also noted that those 3 players played in a total of 15 Grand finals for 7 premierships. Barry introduced Matthew Lawler, a partner of our Major Sponsor Sovereign Financial Services, to say a few words about their company and Matthew expressed his great pleasure in being involved with the EFCPP&OA. Sovereign Financial Services have now been the Major Sponsor of our Association for some years, and their continued support is greatly appreciated.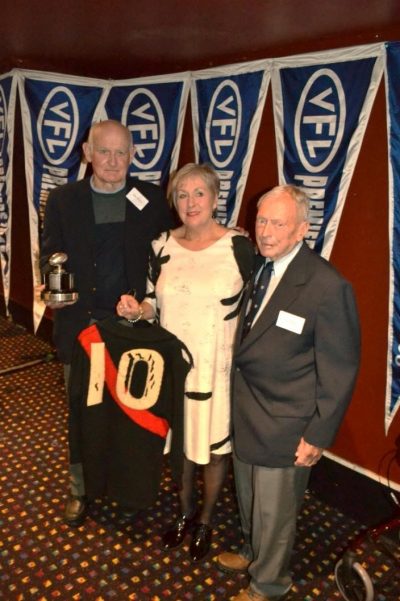 KEN FRASER RECEIVES JUMPER AND TROPHY FROM RON FREER AND JENNY GOULLET.
The absolute highlight of the evening was the presentation of a John Coleman jumper to the EFC Past Players Association and EFC. Committee member Barry Besanko introduced Ron Freer, a close family friend of the Besanko family who was donating the jumper. Ron who is now in his 90's, was a very close friend of John Coleman.  John was Best Man at Ron's wedding and Ron was a pall bearer at John's funeral. At the end of John's playing days, John presented Ron with his 1954 jumper in appreciation of Ron's friendship and support. The Coleman family, represented at the presentation by John Coleman's daughter, Jenny Goullet, also gifted John's 1949 Premiership Trophy to Ron on John's passing. That jumper and Premiership Trophy were presented at the Dinner.
Ken Fraser accepted the jumper on behalf of the Past Players Association and the EFC. In his acceptance speech, Ken described some of his own memories of the great John Coleman including his memories of watching John play and as his coach from 1961 to 1967 which included premierships in 1962 and 1965.  Ken went on to speak about John's outstanding marking ability and in doing so, mentioned Aaron Francis' s sensational mark this year and those great marks in the past by the likes of Matthew Lloyd and Simon Madden, both of whom were at the dinner.  Much to the amusement of all present, Ken said that Coley used to take 4 or 5 better marks than those of Matthew and Simon every quarter.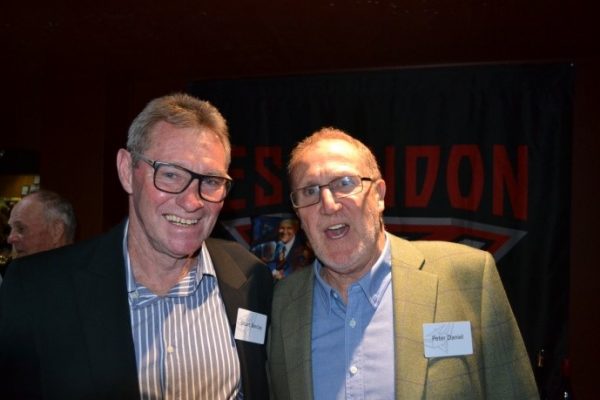 STUART BARCLAY AND PETER DANIEL SHARE SOME MEMORIES.
Former players who travelled from interstate included Stuart Barclay and Fred Gallaher (both from Qld), Peter Daniel (Tasmania) and Graeme Biessel (NSW).
Our comedian this year was Marty Fields who thoroughly entertained all present with his jokes, repartee and brilliant impersonation of his father Maurie Fields.
This event continues to grow year by year and is a real highlight.  It's readily apparent to all present  just how strong  the bonds are that have been built up over the years and clearly demonstrates  the strength of this part of the EFC. The Association now has 420 members across Australia.
Special thanks to the EFC for once again funding the drinks bill at the dinner.
The Silent Auction was a great success and many present at the function received some great bargains.
Written by David Collins
THE DANIHER DRIVE
The Daniher clan again got together for the annual Daniher Drive in October, which covered Western Victoria and South Australia, and raised the magnificent sum of $2.2million for the Fight MND cause. Apart from the four brothers, six sisters took part. The work that Neale has done in raising funds for MND is truly inspiring and we all hope that he will continue to do so for many years to come.
Neale, together with Ian Davis, who unfortunately passed away recently, were strongly acknowledged and received the Shay Rishoni Patient Impact award, at the 25th International MND Conference held in Glasgow in December, for their great efforts to raise awareness of the MND battle.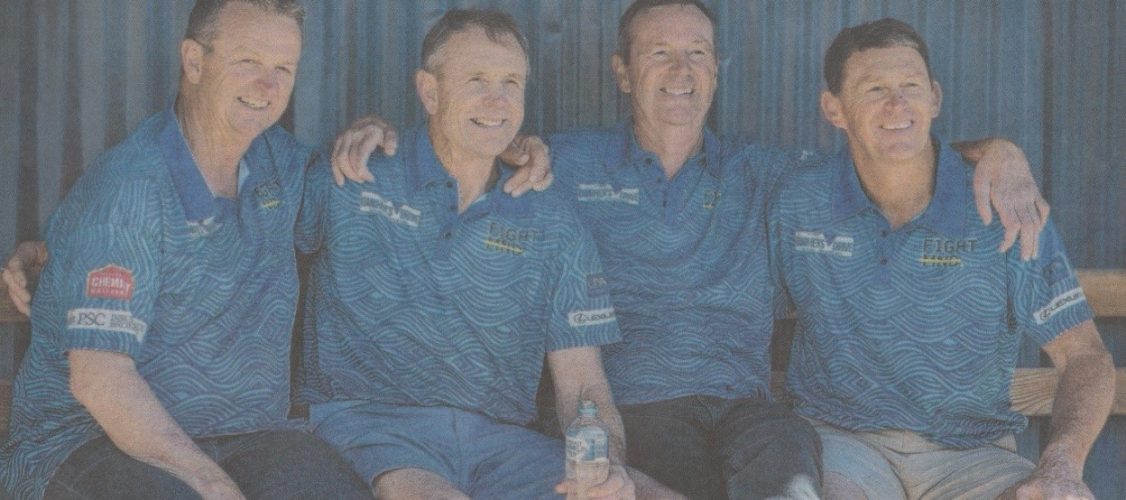 Photo courtesy of the HERALDSUN 13th Oct 2018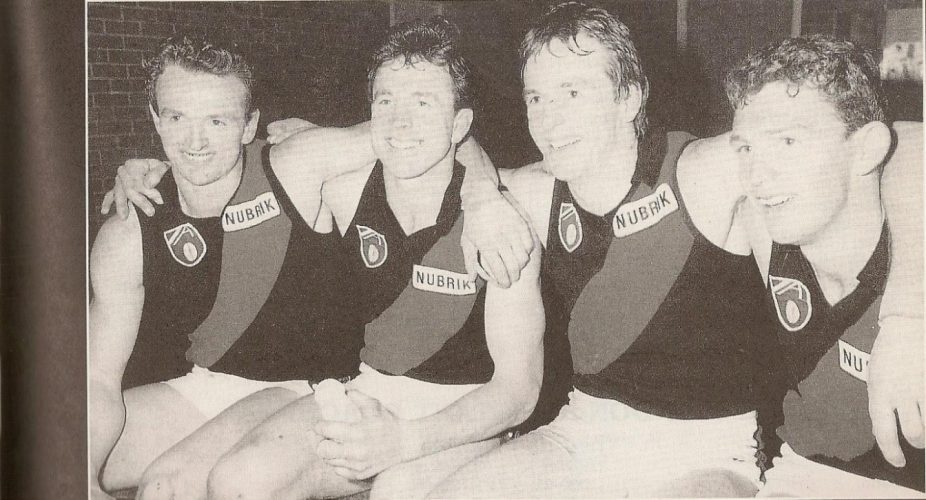 The clan when playing together in 1990.
MILESTONES & ACHIEVEMENTS
The following members have achieved or will achieve significant age milestones between the 1st September and the 31st December 2018.
60 years of age
Greg Flanagan
Ken Mansfield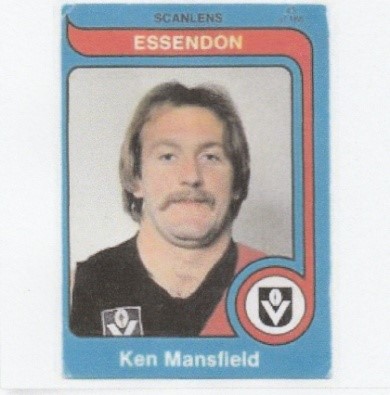 Len Mifsud
70 years of age +
Ian Anderson (70)
John Ellis (70)
Greg Flanagan(70)
Iain Findlay (70)
Roger Hampson (70)
Wayne Headlam (70)
Ray Smith (70)
Ron Thomas (70)
Peter Daniel (71)
Kevin Sheedy (71)
Gary Crouch (72)
Graeme Jenkin (73)
Geoff Pryor (73)
Robert Wilson (73)
Charlie Payne (74)
Ian Stevenson (74)
Barry Davis (75)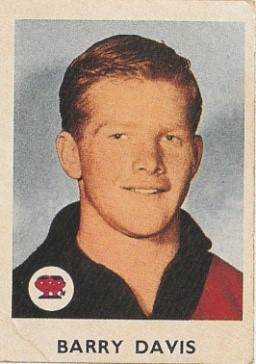 Kevin Egan (75)
Noel Raitt (75)
Glenda Wade (75)
Garry Fenton (76)
Robert Horgan (76)
Russell Blew (77)
Alf King (77)
George Spero (77)
Barry Capuano (78)
Barry Matthews (78)
Max Byers (79)
Paul Doran (79)
Don Nicolson (79)

80 years of age +
Ron Clarke (80)
Noel Freeman (80)
David Shaw (80)
Geoff Barber (81)
Trevor Elliott (81)
Les Pridham (81)
Brian Donohoe (82)
Col Hebbard (82)
Rob Dunlop (83)
John Kilby (83)
Hugh Mitchell (84)
John Towner (85)


Rob Fox (87)
Max Nixon (87)
Brian Gilmore (89)

90 years of age +
Merna Slattery (90)
Noel Allanson (93)
Jack Jones (94)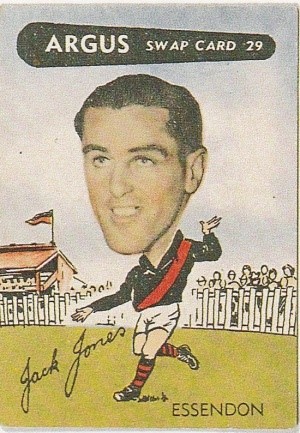 Gordon Yea (94)
We wish you all many more years of health and happiness.
A FANTASTIC ACHIEVEMENT.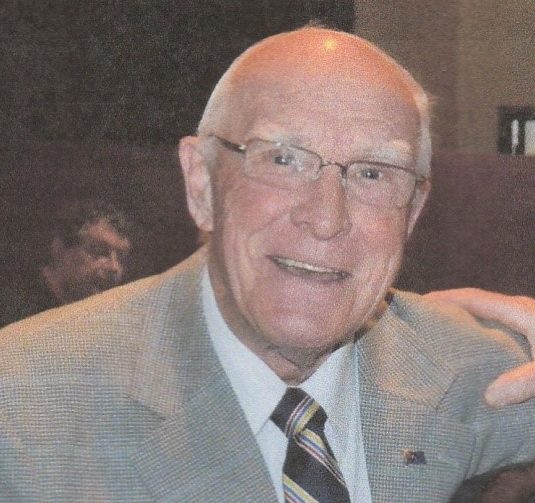 John "Killer" Kilby has now retired from his trainer services with the club after many years of great service. John has always been most obliging to all players who were with the club during his time and will be fondly remembered for the great service he provided.
His service with the club has been outstanding, to say the least:
Commenced with the EFC in the middle of 1965, with full appointment at the start of 1966 with the Under 19's.
Approximately 13 years as Head Trainer with the Under 19's, until 1979 at $3 per week salary (grossly overpaid!)
Appointed as Head Trainer of the Reserves in 1979.
The Reserves won the Premiership in 1983.
Appointed as Head Trainer of the Seniors in 1984.
Was a State representative in 1985, 1990 and 1996.
The Seniors won Premierships in 1984, 1985, 1993 whilst he was Head Trainer, and 2000 as Medical Assistant.
Was replaced in 1996 as Head Trainer, but remained employed as Medical Assistant.
Attended every skills training session since that time, 3 times per week, and is still doing so at the age of 82.
He still attended every Melbourne based home game in 2018 taping players ankles.
John is a Life Member of the EFC.
 Not too many people can give 54 years of service to any organisation and still enjoy what they are doing. Well done "Killer".
LIFE MEMBERS DINNER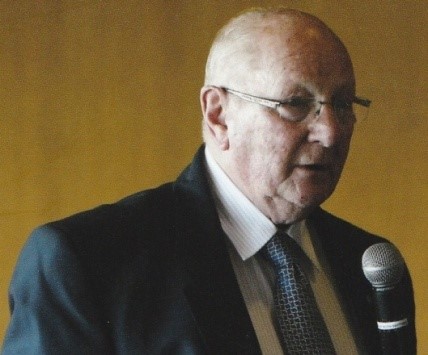 The Annual EFCPP&OA Life Members Dinner was held at Windy Hill on Friday the 31st August and the Committee hosted 15 Life Members and their guests at this function.
 The Committee had recommended that Greg Sewell be made a Life Member of the Association and Greg and his wife, Glenyce, were invited to attend the function as a former President of the club, as Greg had not been told that he was to be granted Life Membership at the function. The President, Barry Capuano, invited former Association President, Kevin Parks, who was a long-time friend of Greg, to present Greg with his Life Members Medallion.
 Greg was completely surprised at receiving his Life Membership and thanked the Association for granting him such a prestigious award.
 Greg's contribution to the EFC and football has been very substantial, and apart from this award, he also holds Life Membership of the EFC, EFC Social Club and the AFL, and also is a Legend of the Hall of Fame at the EFC.
 Greg and Glenyce celebrated their 60th wedding anniversary during September.
COMMENTS FROM THE PRESIDENT
 The club finished the year on a high note and although not making the finals, showed that they are capable of being a real force over the next few years.
 Congratulations are expressed to Devon Smith on winning the best and fairest award in his first year with the club, and he will no doubt have a great influence in the club's success in the coming years. We also express our thanks to Brendon Goddard for the great service he gave to the club and wish him well in whatever he takes on next.
From an Association perspective, we have had a very progressive year and have developed a number of new initiatives during the year, including:
A forward planning document, On Target.
A new Association Structure.
A member networking program, the Top Mark Network.
Establishment of an Associate Member program.
A new MOU with the EFC.
 As part of the development of the Associate Membership of our Association, we have come to an arrangement with the current players to become Associate Members of the Association, and they will contribute to a Future Membership Fund whilst they are playing. This will mean that following playing at AFL level all individual players will become life-long members of the Association, at no cost to them.
OBITUARIES
We are saddened to report that Jim Stanton, a former Trainer with the club, passed away in early November.
 Jim served the club for many years covering the 1960's to the 1980's and was always a very polite and unassuming gentleman.
FACTS, FIGURES & OTHER TRIVIA
In 1873, the first year that Essendon played competitive football in the VFA, they won 5 games, drew 4 games, lost 2 games and had no result in 6 games. Only goals were scored at that time, with Essendon kicking 10 for the season with 2 against them. The teams that Essendon played against were: Carlton 2nd 20, Hawthorn, Carlton Imperials, Williamstown, Studley Park, University 2nd 20, Abbotsford, Brunswick, East Melbourne, North Melbourne, South Yarra, South Park and Collingwood.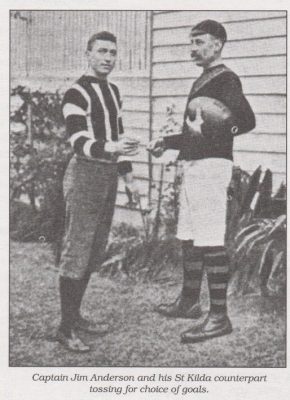 Points were not introduced until 1885, and during that season Essendon kicked 120.243.963 to 45.157.427 against.
This shot was taken in 1903, they wore slightly different uniforms than those worn today. It looks as though the toss was made in someone's front garden!
100 years ago in 1918, Essendon fielded a team, the first since 1915 due to the 1st World War, however many players were still serving overseas, and the team finished on the bottom of the ladder, winning only three matches.
WHO IS THIS PAST PLAYER?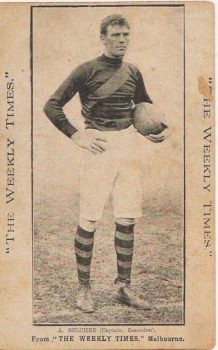 Alan Belcher
Played 176 games 1906-1915, 1918-1919
He was one of Essendon's great Captains as well as being a superlative ruckman and all-rounder. He had come from Brunswick and, prior to this, had played 4 games with Collingwood.
He was Captain in 1910 and then from 1912 to 1915, 1912 being a Premiership year. His brother, Victor, was Captain of the losing South Melbourne team in the 1912 Premiership win. He was also coach in 1910 and paid the princely sum of $2 per week. He missed playing in the 1911 Premiership team due to injury.
He was selected in the State side in 1906, 1907 and 1911.
He was involved in a sensational incident in 1913 when a spectator ran up the ground to punch him during a game. When the Dons skipper chased his assailant and retaliated, he was reported and suspended for 4 weeks for unseemly conduct.
His career ended in early 1919 with a broken toe, and unfortunately he died at the age of 36 following a series of personal tragedies.
MEMORIES OF AN END OF SEASON FOOTBALL TRIP.
In 1964, the Essendon Football Club was the first VFL team to embark on an overseas trip at the end of the season. Back then the club paid all costs for this trip, as the players did not receive great salaries for playing due to the Coulter Law applicable at that time.
We flew out of Sydney on a Thursday afternoon and were well settled on the Boeing 707 as it was passing out of northern Australia, when all of a sudden one of the engines caught fire, and the plane had to turn back to Sydney. There was certainly some panic on the plane when this happened, however we did land safely back in Sydney. We didn't fly out again until the Friday morning, having had no sleep in the meantime.
The first point of call on this trip was Manila, and we all looked resplendent in our club blazers when arriving at the Manila airport late in the afternoon, to be greeted with a temperature in the high 30's and humidity in the 90's. The blazers did not stay on for very long! We were loaded onto an open sided bus and the driver took off at breakneck speed just beeping his horn, and we were all terrified that we wouldn't make it to the hotel, however we did.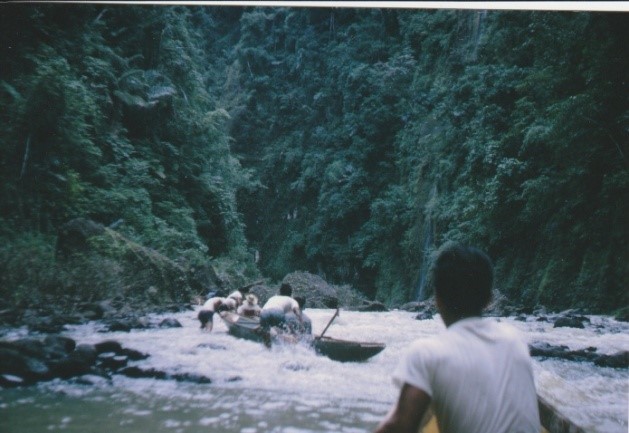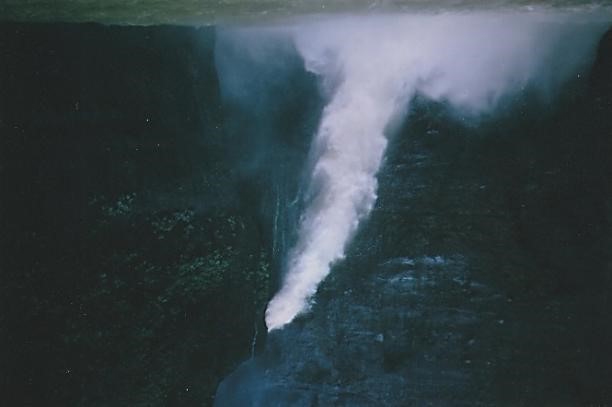 Jack Clarke and other players canoe through the rapids to the falls near Manila.
We found Manila to be a very scary place, as most of the males carried guns in their belts, so we made sure that we kept together in groups when out and about. We did however all survive, and saw some amazing sights and squalid conditions in which a lot of people lived.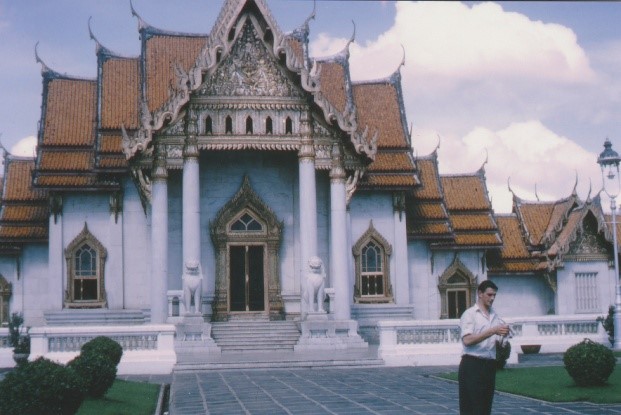 Ted Fordham outside a temple in Bangkok
The next port of call was Bangkok, and this similar to Manila was very hot and steamy. When getting up the first morning after out arrival, we found the street outside the hotel flooded, but when we asked if it had rained overnight, we were told no, but the flooding occurred when the tides were in, and all the effluent flowed back up the pipes. Very hygienic!
Again we saw some great sights in and around Bangkok, and were astounded at the squalid conditions that many people lived in. We visited a country village to find most of the houses were built on stilts, many leaning on dangerous angles, with raw sewage flowing down a trench on the side of the street. The children however were all happy and excited to meet with us.
Our next port of call was Hong Kong, which was then still under English control. Hong Kong was a very vibrant noisy city, however this was where all of the good shopping took place. At that time, you could bring almost anything back into Australia, and most of us did bring back plenty of goods.
One day we took a bus trip to Kowloon the northern part of Hong Kong, to the border with China. This was very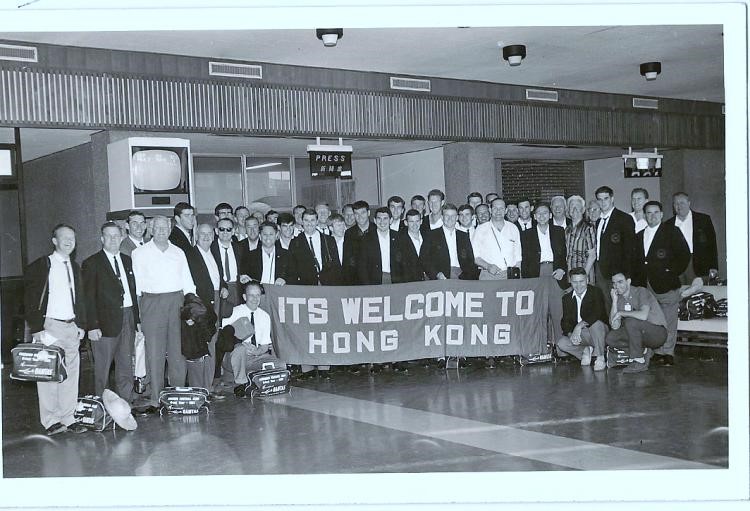 enlightening as China was closed to Western countries at that time, and we could clearly see the troops and equipment on the Chinese side of the border.
There are many stories that can't be told regarding end of season trips, however the two following stories do not fall in that category and were very amusing to all at the time:
A group of us were sitting in the hotel foyer where we were staying, having a quiet drink, when all of a sudden we became aware of a lot of noise and yelling from outside. On venturing outside we could see two rickshaws tearing down the street towards the hotel, being pulled by Ted Fordham and Ian "Bluey" Shelton. Apparently they had convinced the drivers to allow them to drive them back to the hotel, but didn't tell them that it was going to be a race, and the main noise we could hear was from the drivers who were both terrified at the pace they were travelling. The local residents, as we did, thought it was very humorous.
We had all been given instructions that when shopping in Hong Kong, we should not buy off street vendors, but only from various suppliers whose names were supplied by the club. One day, the great John Coleman came back into the hotel with two well packaged shirts purchased on the street, showing the front of the shirt, collar and cuffs across the front. When someone asked John to take one out of the packet to have a good look at, upon taking the shirt out all he had was the front of the shirt, collar and cuffs, but no back or sleeves. Both, of course, were the same. This bought a great deal of mirth to all present, and embarrassment to John.
 As a group we were very lucky at a young age to see how some of the people in the world lived, and it certainly made us appreciate just how lucky we are to live in a place like Australia. The same situation still apples.
Written by Barry Capuano
MEMBERSHIP OF THE ASSOCIATION
Now that the EFCPP&OA has established an Associate Membership, we are endeavouring to trace as many past players of the club that fall within this category, i.e. having played less than 20 games with the Reserves team or played any games with the Under 19 team, to enable them to join the Association. We are currently seeking names of past players eligible for Associate membership through social media platforms, Facebook and Instagram, however there must be many of our members and readers who may be aware of players who fall within this category, and we would greatly appreciate if you could contact Kelvin Steel on 0419582992 or Joel Reynolds on 0425744502 if you are able to assist with any names.
We welcome Rod Wood, a former U19 player, as an Associate Member.
90 YEARS YOUNG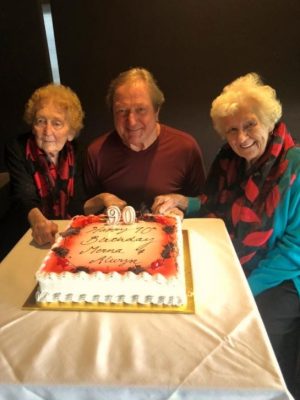 On the 14th November, Windy Hill held a function for two great stalwarts of the club, Merna Slattery and Alwyn Chestnut who had both recently turned 90 years of age.
In the early 1980's a ladies group started to supply Thursday evening meals to the players and football staff, which remained till well into the 1990's, and this group of ladies, including Merna and Alwyn, have continued to supply services to the club to this day. The meals supplied were always superb and greatly appreciated by everyone who participated. Merna remains as the President of the group, is a Life Member of the EFC and a member of our Association.
Kevin Sheedy attended and spoke in glowing terms of the effect that the ladies group had on players during his time with the club. Alan Dunn also supported the great work that the ladies group had done for the players at the club.
The day was very well attended and showed the high respect that these two ladies deserved for the fantastic services they had provided for such a long time. 
CONGRATULATIONS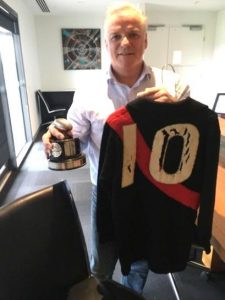 Barry Besanko, a member of the EFCPP&OA Committee, has been recently appointed as a part-time Running Coach for the EFC. Barry has been a long time participant in competing and coaching of athletes, and we wish him well in his new appointment.
His role will be mainly directed to new players coming into the club and members of the WVFL team. We have no doubt that he will be very effective in this new role.
AFL PREMIERSHIP PLAYERS CLUB STAMP NIGHT
For many years the AFL Premiership Players Club has run an event where 20 Premiership players each year are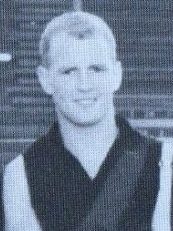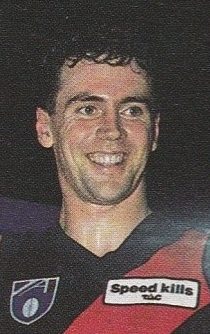 displayed on stamps produced by Australia Post. This year at a function held at Windy Hill on the 29th November, Ken Timms and Paul Salmon were presented with their stamps, in the case of Ken, his son Steve receiving the stamps for Ken as he was not well enough to attend.
As a special tribute, due to the fact that he was not a Premiership player, the club also presented Bob Skilton with stamps for the significant contribution he has made to football, being a Legend of the AFL Hall of Fame. Bob was quoted as saying, "I would be prepared to give up all of my Brownlows to have been able to play in a Premiership team".