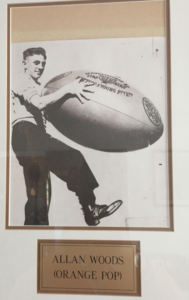 Allan played for EFC Reserves pre-WWII leaving home and footy to enlist in the Australian Army.
Post war, he worked for sports goods manufacturer Nutting & Young hand stitching footballs and memorably, many cricket balls used by Don Bradman and the Australian Test teams.
An Essendon boy born and bred – living at 33 Buckley Street, attending Essendon Primary and High schools.  His best mate was the late Harold Lambert.
Congratulations Allan – 100 wonderful years.