Ken Fraser took over the Captaincy from Jack Clarke this year. Following an up and down season, during which Barry Davis with facial injuries suffered in a game against St Kilda, Ian Shelton with a broken hand  and Barry Capuano with a knee injury, missed many games, Essendon managed to finish in fourth place at the end on the home and away series. During this season North Melbourne played their home games at the Coburg Football Ground which fortunately only lasted for the one season.
Essendon went into the first Semi Final against Geelong as underdogs however defeated Geelong by 52 points, 14.19.103 to 7.9.51.
Essendon then met Collingwood in the Preliminary Final, which proved to be one of the most sensational finals of all times as a result of an incident that took place in the first 10 minutes of the game when John Somerville was knocked unconscious behind play by Collinwood defender Duncan Wright. Following this incident Ken Fraser spoke to most of the players telling them to concentrate on the game and not get sucked into retaliation. He was unaware that Don McKenzie, Ian Shelton and Ken Timms were telling the Collingwood players not to put their heads down as they might suffer some injuries. Essendon went on to annihilate Collingwood 14.13.97 to 6.6.42.
Before a crowd of 104,846 Essendon played St. Kilda in the Grand Final and went on to win 14.21.105 to 9.16.70. John Somerville unfortunately was unable to play in the Grand Final due to the injury sustained in the Preliminary Final.
The best players were Brian Sampson, Ted Fordham who kicked 7 goals, Ken Fraser, Geoff Gosper, Barry Davis, John Birt, Russell Blew, Geoff Pryor, Don McKenzie, Hugh Mitchell and Jack Clarke.
Goal kickers: Ted Fordham 7, Brian Sampson 2, Geoff Gosper 2, Ken Fraser 1, John Birt 1, Hugh Mitchell 1.
The Grand Final Team consisted of:
B.                                                    Darryl Gerlach                                            Greg Brown                                             Charlie Payne
H.B.                                                Geoff Pryor                                                  Ian Shelton                                             Barry Davis
C.                                                    Alec Epis                                                       Jack Clarke                                             Russell Blew
H.F.                                                Graeme Johnston                                       Ken Fraser                                              Geoff Gosper
F.                                                     David Shaw                                                  Ted Fordham                                         Brian Sampson
Foll.                                                Don McKenzie                                             Hugh Mitchell
Rov.                                                John Birt
Res.                                                 Bruce Waite                                                 Kevin Egan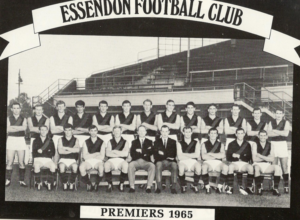 Back Row:       Jack Clarke, Graeme Johnston, Barry Davis, John Somerville, Don McKenzie, Geoff Pryor, Brian Sampson, Bruce Waite, Charlie Payne, Ted Fordham, Greg Brown, Russell Blew, Geoff Gosper.
Front Row:      John Birt, Kevin Egan, David Shaw, Ian Shelton, Greg Sewell (Ass. Coach), John Coleman (Coach), Ken Fraser, Elec Epis, Darryl Gerlach, Hugh Mitchell.