It was a long time between drinks as the 1930's was the worst era that the club has experienced, however it did produce the number one Icon of the club in Dick Reynolds.
1942 was a difficult year for football due to the Second World War and Geelong had to pull out of the competition due to travel restrictions and petrol rationing.
Dick Reynolds was appointed coach again and during that season an 18 year old Bill Hutchison played his first game for Essendon against Footscray in the second round.
Many players were in and out of the team due to war service, however the Don's only lost three games during the season, and went into the finals series as favourites, but the fans were stunned when Richmond beat them in the Second Semi Final by 22 points. Essendon had to play South Melbourne in the Preliminary Final and although they were 5 goals down during the second quarter, they rallied to win by 28 points.
As the MCG was unavailable due to use by the military for training, the Grand Final was held at the Carlton Ground and some 49,000 attended to see the rematch against Richmond. Essendon lead by 34 points at half time and although Richmond resorted to "rough-house" tactics after half time, which resulted in Percy Bushby and Tom Reynolds being reported for striking, the Don's went on to win the game by 53 points.
Best players for the Don's were: Dick Reynolds, Gordon Lane (6 goals) Murray Dearle, Ern Coward, Gordon Abbot, Bob Flanigan and Hugh Torney.
The following week Essendon played a combined Services Team from other clubs for the Patriotic Funds and ran out winners by 27 points. Dick Reynolds kicked eight goals in this game and Ted Leehane kicked seven.
We were all saddened to learn that Ted Leehane had passed away at the age of 91 on the 18th November 2014, Ted being the last surviving member of the 1942 team at the time of his death.
A number of Essendon players served in the armed forces in 1942, including: H.V.Emmett, Goff Goldin, Dick Molloy, Murray Dimble, Harold Lambery, Chris Lambert, Stan Wilson, Keith Forsyth, Keith Forbes, Leo Maynes, Fred Green, Les Begley, Jack Keddie, Jack Caesar, W. Johnson, Ted Leehane, Maurie Edwards, O. Duckett, A, Dolphin, D. McLaughlin, Norm Baker, Ashton Foley, Andrew McPartland, Ivor McIvor, George Regan, Cec Ruddell, Keth Rawle and Rat Watts. Ray Watts was to be rewarded in 1943 with a D.F.C for bombing raids over Germany.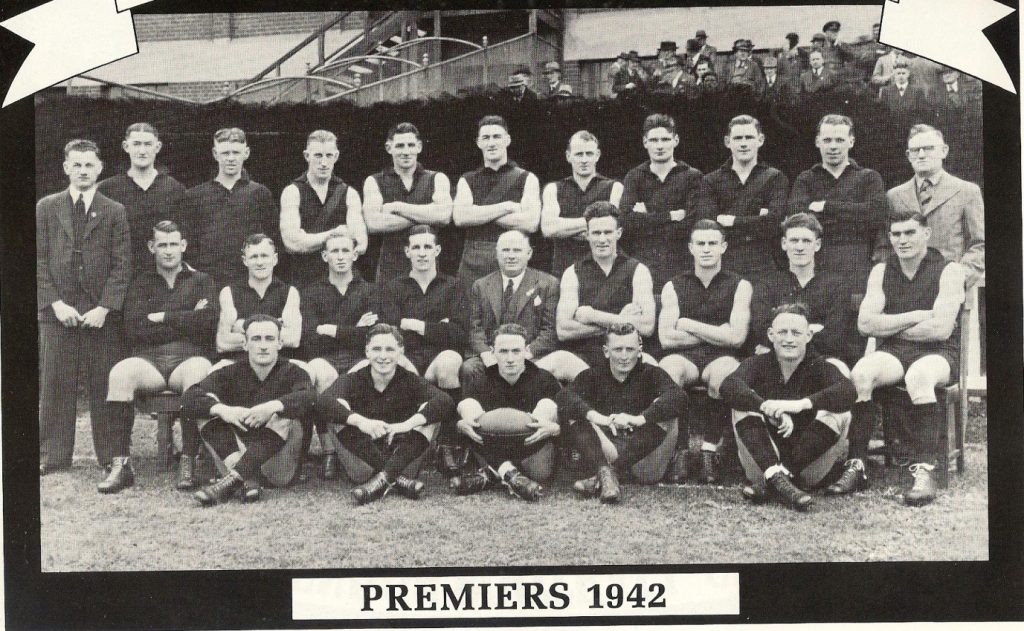 Back row: Syd Carman, Gordon Abbot, Ted Leehane, George Pattinson, Percy Bushby, Norm Betson, Jack Cassin, Alan Hird, Gordon Lane, Wally Buttsworth, Harry Lee
Middle row: Tom Reynolds, Elton Plummer, Ern Coward, Dick Reynolds, Wally Crichton (Pres), Hugh Torney, Laurie Dearle, Sid Silk, Rob Flanagan
Front row: Murray Exelby, Bill Hutchison, Ray Powell, Jack Caeser, Cec Ruddell
From the above, Sid Silk was 19th man (there were no 20th men in those days) and George Pattinson, Norm Betson and Ray Powell did not play in the Grand Final Team