During this season Essendon came from last position midway through the season to finish fourth, thanks to the performances of the great Albert Thurgood.
There was a sensation in the semi-final when a shot for goal by Albert Thurgood appeared to hit the post but was given a goal by the goal umpire, Essendon winning the game 6.10.46 to Fitzroy 6.9.45, with Thurgood kicking five goals.
30,031 people attended the Grand Final at the South Melbourne ground against Collingwood. Essendon lead from the start and by half-time lead by 29 points, with Thurgood again playing brilliantly, and eventually ran out winners, 6.7.43 to 2.4.16.
During this year the finals system was changed where the two Semi-Final winners went into the Grand Final, whereas, in previous seasons the leader at the end of the home and away series had the right to challenge the winner, if they did not make the Grand Final and this was seen by the age as unfair, as they reported: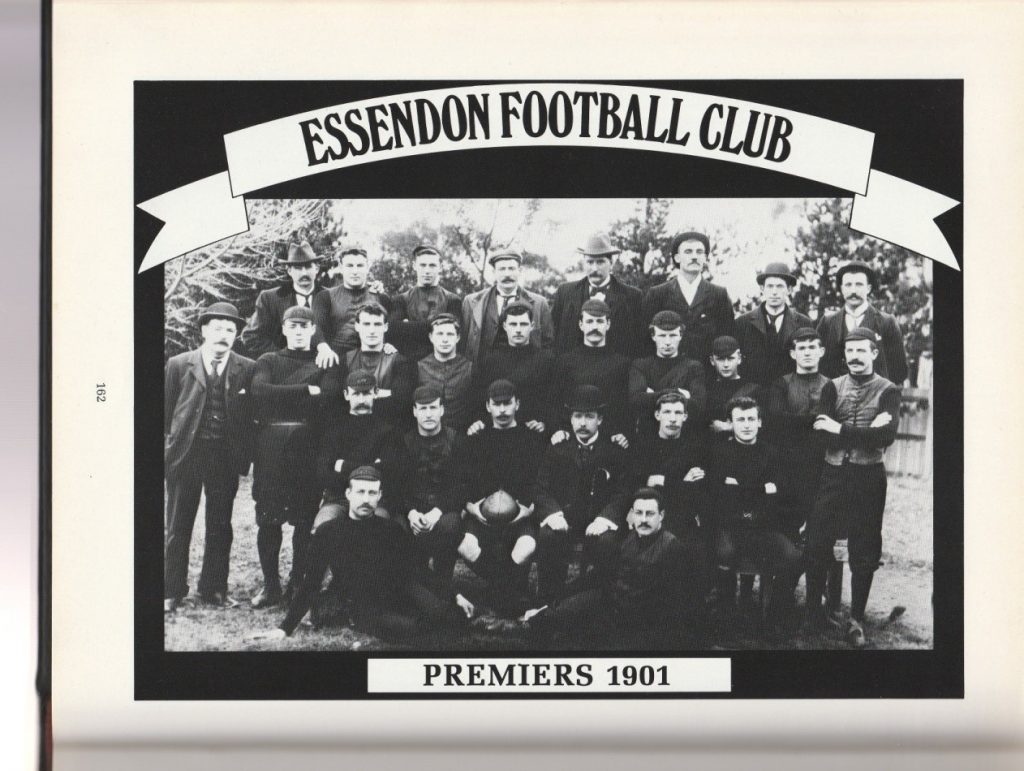 "As to the method under which the Premiership has been decided, although not so bad as that of last year, it is inequitable and therefore unsatisfactory. Allowing that Essendon finished up the season in great form, the unsatisfactory fact remains that the club with the best record of matches played, won and lost, Geelong, is placed only third".
One of Thurgood's goals from a place kick against the wind was later measured and found to be an incredible 93 yards (85m).
The Premiership Team was as follows:
F. Mann
E. Barry
G. Hastings
F. Hiskins
G. Martin
W. Robinson
J. Anderson
H. Gavin
H. Wright
A. Thurgood
E. Kinnear
J. McKenzie
M. Collins
T. Collins
H. Vollugi
J. Larkin
G. Stuckey
W. Griffith